독일 Frankfurt University of Applied Sciences에서 Virtual Academic Short Term Program을 진행한다고 합니다. 관심있는 학생들은 아래 내용을 확인 바랍니다.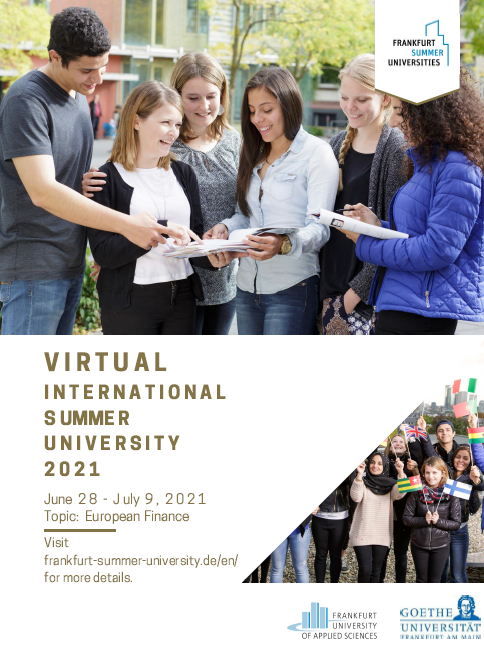 Frankfurt University of Applied Sciences will offer one course this year in European Finance (6 ECTS). The course is divided into 4 dynamic units, which aim to lay the groundwork for a solid knowledge base of the banking and finance sector in Europe:
- Banking in Europe
- Central Banking in the Eurozone
- European Economic Integration
- Financial Institutions in Europe
There will be additional online social gatherings and workshops, to give students a chance to get to know one another, become acquainted with Frankfurt, and develop their intercultural communication skills.
This intensive two-week course will take place from June 28th until July 9th, 2021, with pre-course and post-course meetings taking place the week prior to and after the course. The classes will take place in the morning Frankfurt time (UTC+2).
The course has open enrollment and students will be admitted on a rolling basis. Maximum capacity for the course is 25 participants. Please find all relevant information online and can apply on our website here.
* 지원기간: March 15th, 2021~ May 20th, 2021
* 문의처: Frankfurt University of Applied Sciences International Office /