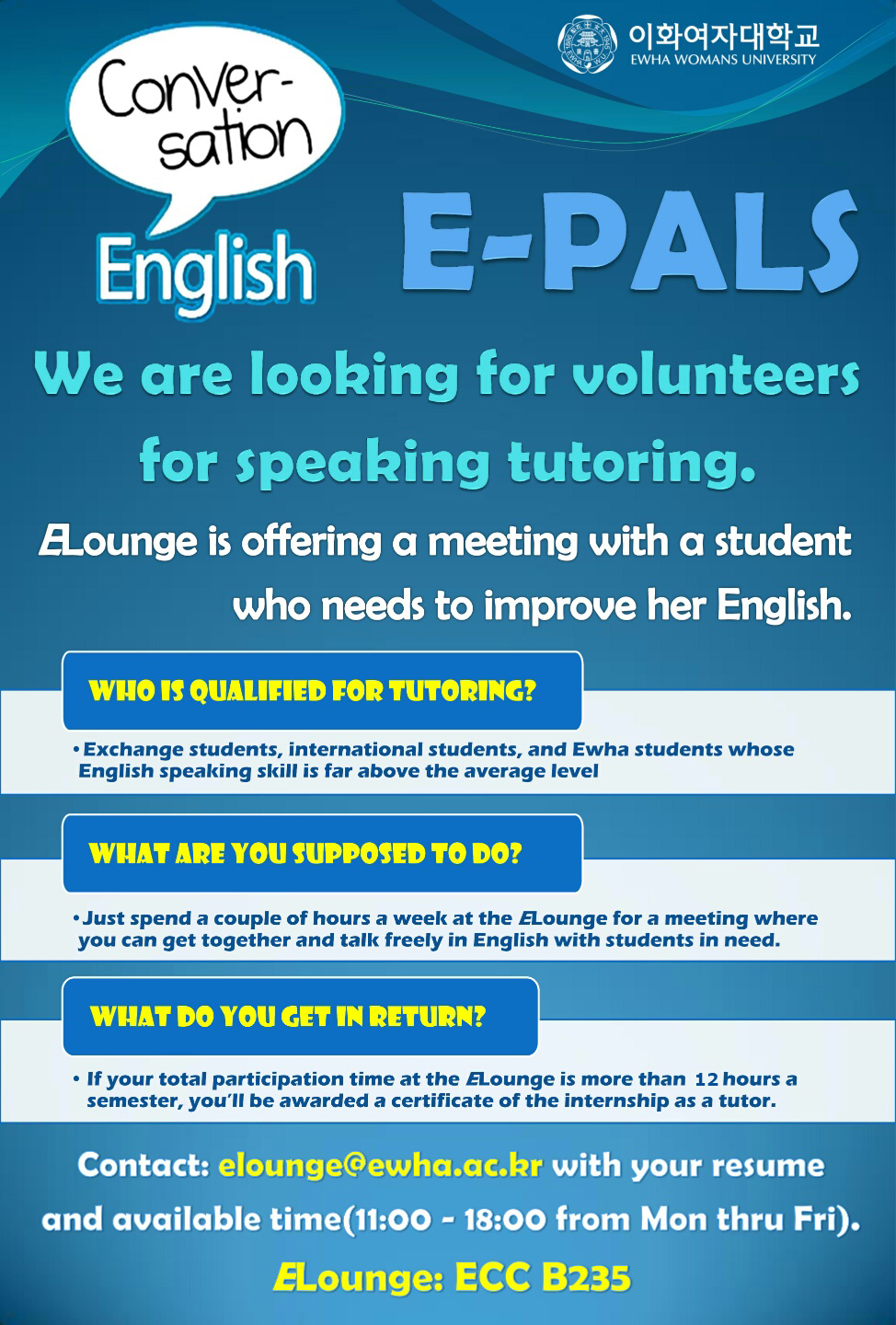 Hello,
Ewha Global Language Education Office is asking for volunteers as English tutors for speaking at the Elounge.
Volunteers who contribute a minimum of 12 hours for the entire semester will be rewarded a certificate of internship at the end of the semester.
Please refer to the information below and contact us if interested: elounge@ewha.ac.kr
When: From the Third week of September to the Third week of December.
(It may change as the University decides a new rule regarding COVID 19)
(Elounge will be closed during the midterm week and before the final exam.)
Due to recent outbreak of COVID-19, tutoring sessions will be done via Zoom. Working hours would be from 11 am to 6 pm Mon-Fri.
Role: Speak 30 minutes per session with a student on speaking activities, TOEFL speaking questions, and interviews (short training provided).
Must fulfill 12 hours or more of service for the semester.
Benefits: Make friends with Ewha students.
Receive Certificate of Internship issued by Ewha Womans University.
Exchange cultural knowledge and friendship.
Qualifications: Must be able to volunteer for the entire semester (minimum 12 hours).
Must be fluent in English.
Must be dedicated and professional as a tutor of the university.
Should have an outgoing and friendly personality.
If interested, please send your picture/resume/and time(s) available
(ex: Mon 2-3pm, Thurs 4-6 pm, Fri: 11:00-12:00) to elounge@ewha.ac.kr
We will then contact you for a short interview.
Thank you for your interest.
Elounge
Global Language Education Office
Ewha Womans University
Tel : 02-3277-2158 / 2165
Fax: 02-3277-3713