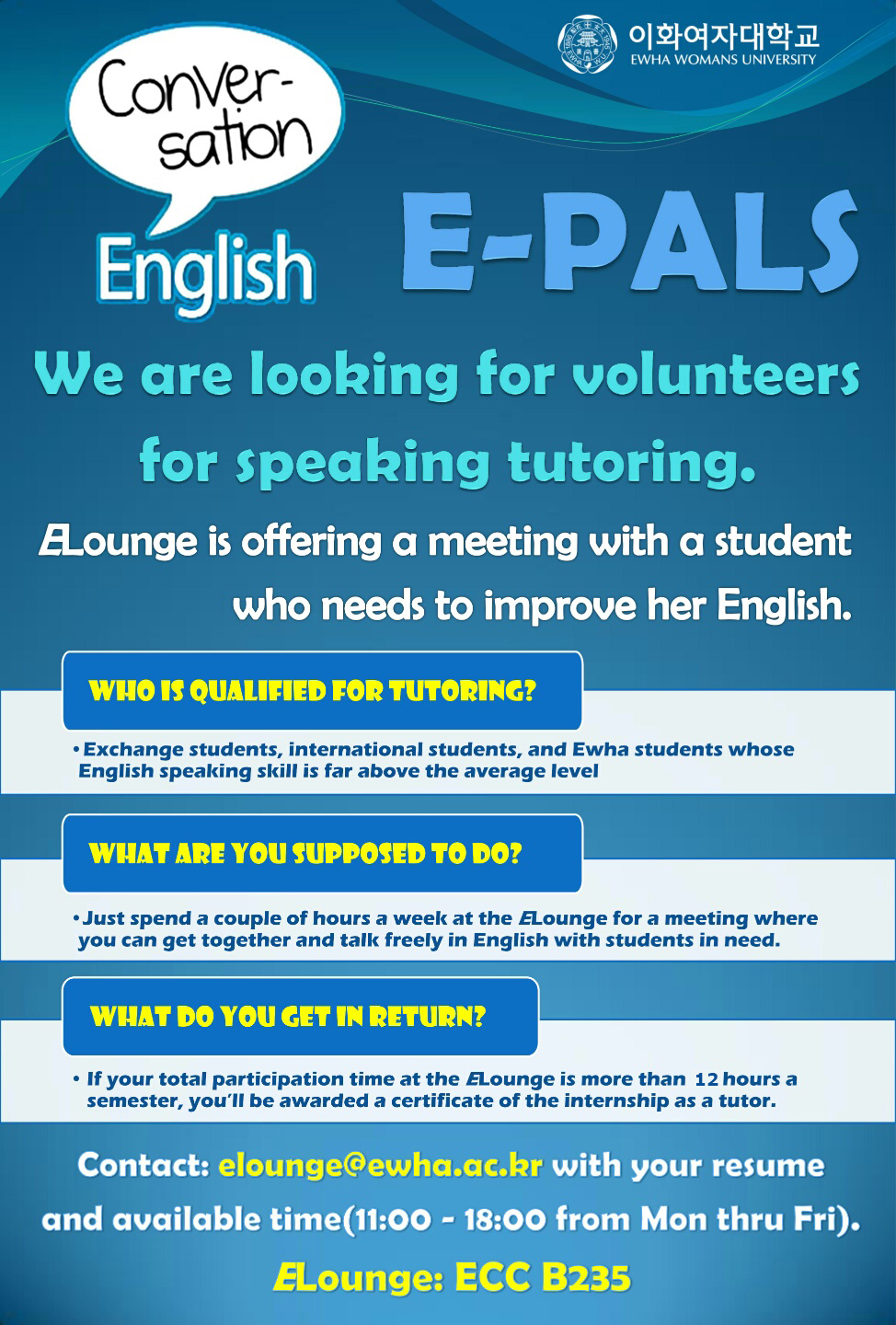 Hello,
Ewha Global Language Education Office is asking for volunteers as English tutors for speaking at the Elounge.
Volunteers who contribute a minimum of 12 hours for the entire semester will be rewarded a certificate of internship at the end of the semester.
Please refer to the information below and contact us if interested: elounge@ewha.ac.kr
-------------------------------Elounge Volunteer Information-----------------
When: From the First week of April to the Third week of June.
(Elounge will be closed during the midterm week and before the final exam.)
Elounge will be open every day from 11:00 am-6:00 pm Mon-Fri.
Role: Speak 30 minutes per session with a student on speaking activities, TOEFL speaking questions, and interviews (short training provided).
Must fulfill 12 hours or more of service for the semester.
Benefits: Make friends with Ewha students.
Receive Certificate of Internship issued by Ewha Womans University.
Exchange cultural knowledge and friendship.
Qualifications: Must be able to volunteer for the entire semester (minimum 12 hours).
Must be fluent in English.
Must be dedicated and professional as a tutor of the university.
& nbsp; Should have an outgoing and friendly personality.
If interested, please send your picture/resume/and time(s) available
(ex: Mon 2-3pm, Thurs 4-6 pm, Fri: 11:00-12:00) to elounge@ewha.ac.kr
We will then contact you for a short interview.
Thank you for your interest.
Elounge